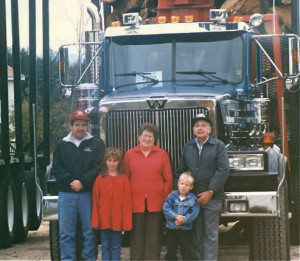 R.C. McLucas Trucking Inc., established in 1988, is owned by Richard McLucas. Richard is the third generation of loggers in his family. His grandfather, Kenneth libby, started logging with horses, As logging progressed he and his son, Everett Libby, used a crawler in the woods.
Richard attributes his work ethic to his uncle, Everett Libby. The fourth generation, Jeni and Shaun, have now entered the business. Jeni works in the office and her husband, Phil, drives the tri-ax le logging truck. Shaun works as a slasher operator on one of our logging crews.
The objective of the company is to provide safe, reliable forest harvesting to the landowner and foresters. We service a large variety of mills with our fleet of trucks, hauling forestry products to Maine and New Hampshire. We also broker wood for other logging professionals under our wood contracts.
Our firewood business delivers to private homeowners with quality green or seasoned firewood year round.
RC McLucas Trucking Inc.
576 Ossipee Trial
PO Box 67, Porter, ME 04068
Phone: 207-625-8915
Fax: 207-625-4231
576 Ossipee Trial,
Porter, ME 04068